Non-Profit Grant Announcements:
FY23 Homeland Security Budget was approved in June 2022, we are currently awaiting the vote and passing of the Appropriation. Our current appropriation ends December 16, 2022.
After the vote of the appropriation and budget, DHS/FEMA will have (60) days to release the Notice of Funding. This could be anywhere from February 16-May. 
FY23 Grant information will be released, as soon as information is available. If you are interested in applying for a FY23 Grant, please go ahead and begin working on the following in preparation:

UEI Number (There will not be a waiver for FY23, you must have a valid UEI to be in considered.
Security Assessment
Mission Statement
Research costs for potential items. (Cost may change from the time of the application until the time of the award). Do not make guesses or estimations, as to what items will cost. 

Example: Fencing will cost more than $5,000.00
Example: Security System $300.00
FEMA Resources for upcoming FY23 Grant Application. Information is subject to change, but this are provided as resources.  
Non-Profit Grant Program: The Non-Profit Grant Program (NSGP) provides funding for security-related and physical security enhancements to 501c3 non-profit organizations and houses of worship. The NSGP is a competitive grant program which promotes emergency preparedness coordination and collaboration activities between public and private community representatives, as well as state, local and tribal government agencies.
Grant Funding Available: Up to $150,000.00 per site.
Maximum site allowance: 3 sites.
Non-Profit Grant Funding Opportunities:
Non-Profit Grant Applications also require the following documents for a completed application. 
Vulnerability/Risk Assessment

Unique Entity Identification (UEI).

Must be registered in SAMS.gov to register for UEI.

NSGP Investment Justification (Application)

Mission Statement

Supporting documentation
Non-Profit Grant Application Review and Award: Each grant application that is received by the MOHS goes through a review process, please see below for the Non-Profit grant review process.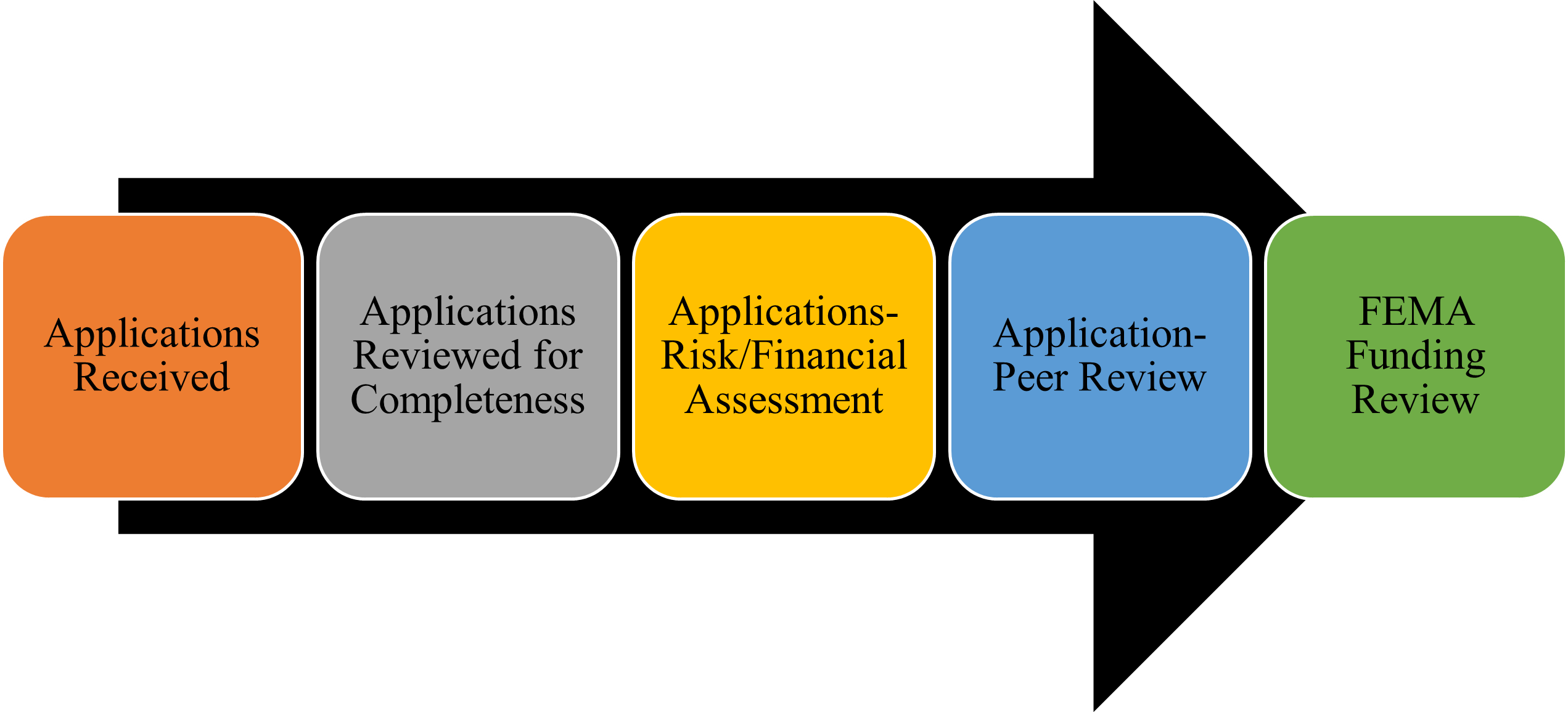 Grant Implementation: At the end of each application review process, the Grant Application will become a Grant Award if approved for funding. A Notification of Award is sent to all applicants that are funded or not funded. If an agency is not funded, all applications will be kept for one (1) year. If funding comes available from grant reallocation funds, the MOHS will review all previous Grant Applications and determine if previous applications can be awarded.
When a jurisdiction is awarded for grant funding, then each jurisdiction will be provided information about a required Implementation meeting. Implementation meeting will be held to go over all grant information that will be needed for the grant year. Information will be provided on what is required for the grant, how to fill out the grant award packet and grant forms that will be required for the grant year.
FY22 

Implementation Power Point
FY22 Report Dates:

FY22 Grant Forms:
FEMA and Other Federal Resources: